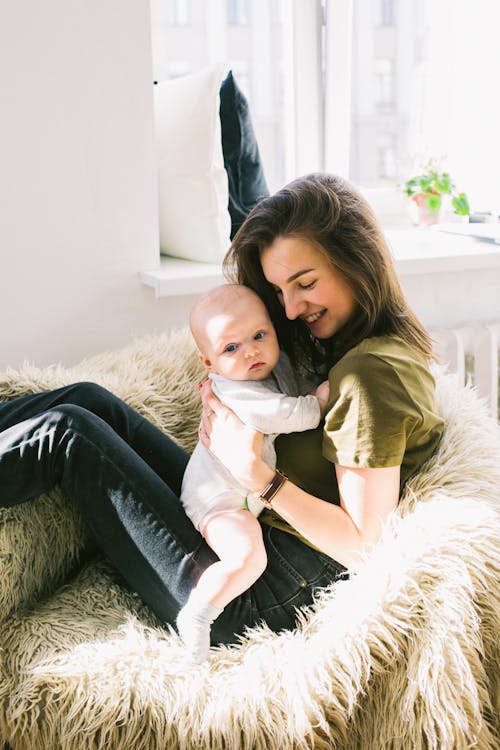 Pexels


If you are a first-time mother then it is obvious that you definitely go through a phase where you feel that your style has been lacking and additionally the changes happen in your body may not leave you comfortable with the fashion as much as you used to. It is always important to take care of yourself and kid as a serious mom but plans it in a way that does not let you spend hours before the mirror and do not deviate you from your responsibilities. It is seen that over thinking before the mirror can harm your style and health as well. It's easy to look polish and stylish even when you are a mother and it is not that you cannot look sexy as a mother.
Finding appropriate outfits that make you feel comfortable and appropriate as well as choosing the right products that let you look pretty much as you are earlier is important. You may have to choose little large size buy yes you can easily go with the same wardrobe collection that you always attached with. So, Moms! Let's check some of the best options that let you maintain the same fashion and look as you look before being a mother here.
1. Find the Best Clothing that Suits You
The change might be for few days but you will surely go through the changes in your body being a mother and you will not have to stick to the most routine during the period because of there no word that a mother doesn't have right to look good. Right? Yes, so as everyone has a different personality better you choose the clothes according to your body shape that flatter perfectly. There are different shapes of clothes like V necks, sleeves, A-lines, pear shape, boot styles, and others. Choose what is more suitable and what actually fits in your comfort and the styles you wish to carry. If you have thought of buying something in this season then do check the latest fashion collection available at the store Zalora as it offers the extensive range of fashion collection at most reasonable prices. Just choose what you wish to buy and get them using
Zalora promo codes
.
2. Prefer Jeans When Going Out
The outfits that you usually wear may fit in your comfort but especially when going out, it is better than you prefer to pick jeans as it looks more intentional and stylish compared with any other outfits that mothers usually carry. You hardly get time from your baby to go out and see the outside world and at that time make sure that be in your style to keep your confidence and beauty up.
3. Fashion is Unbaked without Accessories
In any style you are in, accessories are the added things that complete a look. Though you wear a saree or the jeans it is must that you wear something that suits that style either it may be necklace, earrings, bracelets or any other. Nowadays, you will find the heavy collection to the simple and nice beauty collection available at the store so do check what better suits on your style dear moms and wear them on. You can find such an outstanding collection of fashion at the stores like Lazada. It is one of the best stores in the Philippines to choose accessories of your choice at reasonable prices using
Lazada promo codes
.
4. Moms Hair Cut for a Stylish Look
Moms generally do not prefer any special haircuts during the busy schedules they are going through but must prefer to maintain the right hair cut which completely takes out your pressure and make you look stylish as well. There are different styles like bob, long pixie and other but most of them choose something that definitely cut down their time of spending on hair. You can definitely choose the low maintenance hair cut but that must suit your lifestyle and the must make you more stylish. So, prefer to choose the right hairstyle!
5. Makeup as You Like, do not Give Up Completely
It's not a rule that you must not get ready and do no play with makeup being a mother. Yes, you might not able to spend hours before the mirror and you may find very less for yourself but in that time add something additional on your beautiful face. Just do not completely drop your makeup routine. You look beautiful even without makeup but make it more interesting and happier inside by choosing the moisturizers, colored lip balms, maracas, lipstick, and little foundation if you have time. If you are in plans to buy any beauty products then, you must check Sephora. It is a beauty store that offers each and every product that perfectly fits in your need and budget.
Sephora coupons
help every individual to shop everything required from the store at reasonable prices.
6. Refresh & Color Your Nails
Generally, women prefer Manicure & Pedicure to get a sort of relaxation and look quite different and fresh with the newly colored. Even the nails add the style in the look that you are preferring so it is important you freshly pain and create your own style statement. You may be busy and do not have time for going as these days the services are available at home also so choose the right service and try it once. I am sure you will love it!
7. Do not Forget About Your Footwear
Fashion just not end up on choosing the right clothes, makeup, and the other additional things. Footwear is also a must considered a thing when you are maintaining a fashion. Footwear can actually change the entire look so grabbing the right kind of footwear like sneakers, ballet flats, boots, heels or any other according to the style is important.
You definitely stay busy whole taking care of your kid, working for your family and being a full-time job holder but along with all these things, one thing you can do for yourself is being you as you wanted to be always. We have listed some of the best tips that really help you find a great fashion to maintain in your busy days taking little space for yourself. With huge respect to all Moms, hope this article help find the right fashion to you!